If you're a Karachiite reading this, you most likely have a smirk on your face right now, coz in most people's opinion, it's hard (read impossible) to find good tasting food in Islamabad.
Which isn't entirely true…
I do agree that most places need to work specially on presentation and giving consumers that post meal satisfaction through flavours and taste, but that doesn't mean the Capitol is devoid of ANY good places to eat at all.
Everyone will tell you to dine at the few big fancy names like Monal, La Montana, Andaaz, Des Pardes etc etc but in my experience, most of them turn out to be the perfect example of "oonchi dukaan pheeka pakwan"  –  hence I am listing some pretty basic but non-conventional food joints here that serve appetizing desi and foreign cuisine which I got to try out on my recent visit.
1. Bala Tikka House (Pakistan Town, PWD)
I think I just made a controversial point right in the start, for most will argue this isn't in Islamabad but Pindi.. Well okay,  I'm GUILTY.
Tucked right around the edge of Islamabad Expressway, clinging halfway in Pindi and the main city is this Desi food joint in Pakistan Town that serves almost everything tasteful. From Brain Masalas to Kabab Karahi, Chaplis and Handis, this place hands down leaves me with a good feeling and I feel I'm home (Read: Karachi)
Reasonably priced and a pretty detailed menu, this place is jam packed even on weekdays. On weekends, you'll have to call and reserve a table coz the waiting line is huge.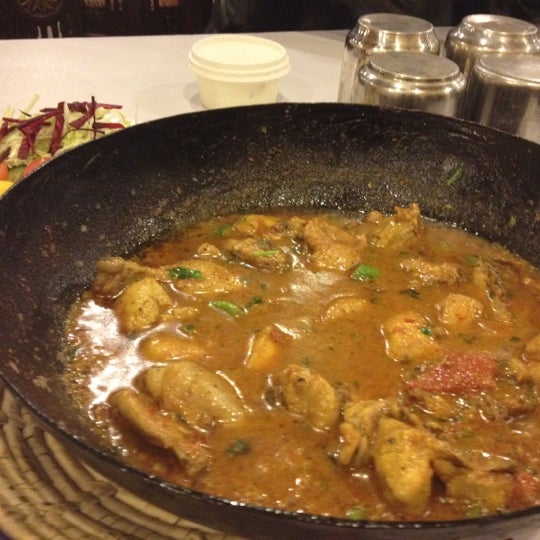 2. Mantu Gul's Kitchen (Shakarpariyan Road, Islamabad)
On a grey weather day, this spot is heaven on earth, with a crystal clear view of the Margala Hills in front of you and an open air picturesque setting. This place is run by chefs from Skardu and they serve cuisines from the North as a specialty. I went there for breakfast and had their famous Chaap Shoro with Doodhpatti Chai. Chaap Shoro is a local dough filled with minced beef, onions and other veges and condiments.
They have game tables, so you can enjoy a nice cup of tea while playing board games with friends.
3. Munnu's Afghani Burger and Fries (Bahria Town Phase 4)
Right across Arena cinema, there's a fast food joint that serves juicy gigantic Afghani burgers/ shawarmas. Filled to the brim with sausages, meat chunks, veges, cheese sauce and French fries, these are ginormous and serve great for a hungry stomach and doesn't give your pocket a heart attack.
4. Chinese Pulled Noodles (F-11 Markaz, Islamabad)
Earlier set up in a different spot of the same Markaz, this "seriously" authentic Chinese place is a must visit for genuine Chinese lovers, now situated next to Cock N Bull in an undertoned spot. Run by a chinese couple, you can be sure this place is as authentic as their genes. Very below average place with limited but helpful staff to guide you through the foreign sounding menu. I have no recollection of the names hence I'll describe them in layman terms. We chose to order their special Beef Chow mein and Stir Fried Chicken with Almonds and dug in with chopsticks. Beware of the spices that will tingle your tongue and the strong indigenous sauces that will give you a flavour buzz.
5. Tayyab Refreshments (PWD Road)
I was introduced to this spot by a local who had never met a Karachiite before and was concerned whether or not it would please our pro-food Karachi taste-buds (Am I proud?) so I was promised a Gol Gappa date at this roadside Khoka who serves pretty good crunchies filled with khatti meethi chatni (sweet and sour sauce), yogurt and mildly sour tamarind juice. Their Chana Chaat  was also very close to what we have back here in K-town.
Now you know where to go for your gol gappa cravings.
6. Chikachino (F-7, Islamabad)
Who doesn't know of this place in Islamabad? This is one of the most popular hang out spots here in the city and rightfully so, as I visited them multiple times back to back during my visit just for their delicious Swati Imli sharbat, Multani Shikanjbeen & Pakoray. I could never have just one glass of these delicious drinks and never make a choice between the two, so I'd order both on repeat at least three times 😀
Simply fantastic
7. Hot N Chilli Restaurant (Sector O-9, Islamabad / PWD Road)
Well yes, we all know from where this logo has been copied but let's forgive and forget and dine in peace! Hot N Chilli serves really good spaghetti and chicken chilli dry with a pretty decent serving portion at a reasonable price. I am sure other items on the menu are worth the try as well. Although I don't like the crammed up seating arrangement but you can always sit out in the open if you like.
8. Pizza Originale (Multiple Locations over Pindi & Islamabad)
Only I know the cravings I had for a cheesy cheesy pizza that day and upon suggestions and recommendations, I found out that the BEST pizzas served in Islamabad are from 14th Street pizza and New Yorker (Are you serious??) Kher I decided to go with the third most suggested place, Pizza Originale. Opted for the Bahria town branch and ordered a thin crust spinach and chicken flavour served hot and loaded. I quite liked the taste and it did manage to curb my "good pizza" cravings, though they need to work more on their menu variety. This was a reasonable choice in terms of taste and price both.
9. Trail 5 Chai & Pakoray (Islamabad)
Hands down for the best and lazeez crispy pakoray in town, with great tasting Chai and wonderful views of the Margala in the front. This is a small hidden spot near the entrance of Trail 5 of Margala Hills. Clean Kitchen & really good experience overall!
10. Jamil's Kulfi (PWD Road)
The undisputed winner of the best kulfi and ras-malai in town. Provided you only stick to ordering this or the sweets but NEVER the Falooda, don't even think of making that mistake because they are yet to learn the definition of this alien item 😛 But Ras-Malai and Kulfi are safe and best bets!
So guys, It's a wrap! Although I tried many other local and formal food joints but this is my compilation of eateries based on taste and unconventionality. If you have something to add to my list or have a different opinion of the listed places, please do share in the comments below 🙂